Have you sustained injuries after an accident with a golf cart in Jacksonville, FL? These vehicles are designed to be driven on golf courses yet are commonly seen on roads throughout the Sunshine State. After a crash, you might have a substantial claim for compensation from the at-fault party.
Baggett Law Personal Injury Lawyers has been helping injury victims throughout the greater Jacksonville area for over a decade. In total, our attorneys have nearly 80 years of experience practicing law. And since we opened our personal injury law firm, we've obtained tens of millions of dollars for our deserving clients. Don't hesitate to contact us; we're here to help you with your case as well.
Call us today at (904) 396-1100 to set up a free initial consultation with one of our trusted Jacksonville golf cart accident lawyers.
How Baggett Law Personal Injury Lawyers Can Help After a Golf Cart Accident in Jacksonville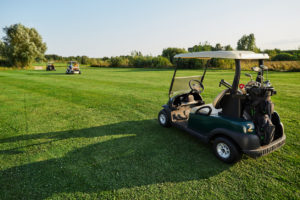 If you or a loved one recently experienced a golf cart accident in Jacksonville, Florida, you might not be sure of your legal options. Florida is one of the few states with "no-fault" insurance rules, but do those even apply to golf carts? What about the state's stance on operating them on public roadways? Against whom should I file a claim?
These are just some of the questions that may be on your mind after this type of accident. Fortunately, Baggett Law Personal Injury Lawyers is here to assist. We know the latest Florida statutes inside and out. If you hire our trusted Jacksonville personal injury lawyers, we'll work hard to collect compensation on your behalf while you rest and recover from the accident. Our award-winning legal team can help with your case by:
Investigating your accident to thoroughly evaluate your damages, collect evidence, and identify the liable party
Enlisting the help of experts, if necessary, to increase the strength of your claim
Taking care of all the paperwork and communications with the at-fault party
Negotiating a settlement agreement that accurately reflects your losses
Filing a lawsuit if the opposition refuses to negotiate in good faith
Contact us today in Jacksonville, Florida, to begin the process of receiving the compensation you need and deserve.
Florida Golf Cart Laws
There are a surprising number of statutes that pertain to golf carts in the State of Florida. Florida Statutes Section 320.01 defines a golf cart as "a motor vehicle that is designed and manufactured for operation on a golf course for sporting or recreational purposes and that is not capable of exceeding speeds of 20 miles per hour."
A vehicle fitting that description does not need to be registered with the Florida Department of Highway Safety and Motor Vehicles (FLHSMV). There are also no insurance requirements for golf carts, though there is generally optional coverage available for purchase. Depending on the location, golf carts may sometimes be authorized for use outside a golf course per a local ordinance.
Florida law separately defines a "low speed vehicle (LSV)" as "any four-wheeled vehicle whose top speed is greater than 20 miles per hour but not greater than 25 miles per hour, including, but not limited to, neighborhood electric vehicles." Unlike golf carts, LSVs must be registered, titled, and insured with the state. LSVs may be used on public roadways, but only under certain conditions as established by Section 316.2122 of the Florida Statutes. The minimum insurance requirements in Florida are:
$10,000 in Personal Injury Protection (PIP) coverage
$10,000 in Property Damage Liability (PDL) coverage
PIP offers you benefits if you are injured in an accident, and PDL covers damage you cause to another person's vehicle. Florida is one of the few states with "no-fault" insurance rules, and PIP is its form of no-fault insurance. This means you can receive PIP benefits regardless of whose fault the accident was.
However, to file a claim against the at-fault driver for full damages, you must have sustained a "serious injury" as defined in Section 627.737 of the Florida Statutes. PIP can only cover 80% of all "necessary and reasonable" medical expenses after an accident, so filing a claim is the only way to receive compensation for things like your pain and suffering.
How Valuable Is My Jacksonville Golf Cart Accident Claim?
Many factors go into determining the value of a Jacksonville golf cart accident claim. A primary consideration is whether you have sustained a "serious injury" that allows you to pursue compensation from the responsible driver. If you have, your claim will likely increase in value significantly.
Overall, the claims involving the most debilitating injuries are worth the most. However, many other factors could influence how valuable a claim is, such as:
The terms of any insurance policies that apply to the situation
The availability of evidence in support of your compensation claim
If applicable, whether you share any blame for the accident
Your age when the accident occurred
Our Jacksonville golf cart accident lawyers can fight to maximize the value of your claim when you choose us to represent you. Call today for more information regarding how much your claim might be worth.
What Damages Can I Recover After a Golf Cart Accident in Jacksonville, FL?
After a golf cart accident in Jacksonville, you might be eligible for economic damages as well as non-economic damages.
Economic damages make up for your financial expenses, such as:
Lost wages
Medical bills and related costs
Out-of-pocket expenses
Rehabilitation and therapy
Decreased earning capacity
Non-economic damages reflect the other types of losses you may have incurred, including:
Pain and suffering
Post-traumatic-stress-disorder (PTSD)
Mental anguish
Loss of consortium
Emotional distress
Punitive damages could be available in addition to economic and non-economic damages, but only in rare cases. These damages are meant to "punish" the at-fault party if they have acted with extreme recklessness or gross negligence.
What Are the Common Causes of Jacksonville Golf Cart Accidents?
Golf cart accidents occur for many of the same reasons that most motor vehicle accidents do. These include, but are not limited to:
Following too closely
Intoxicated or drunk driving
A failure to yield the right of way
Poor road or weather conditions
Defective machinery or parts
Running a stop sign or red light
Distracted driving
Fatigued driving
Unsafe maneuvers or lane changes
Our legal team at Baggett Law Personal Injury Lawyers has been helping clients in Jacksonville since 2012. Reach out to us today to speak with an attorney about your case and what we can do to help you recover compensation.
We'll Fight To Pursue Compensation for All of Your Golf Cart Accident Injuries
Golf carts do not have nearly the same protection as most other motor vehicles do. As a result, their drivers and passengers can potentially sustain especially serious injuries. These include the following:
Traumatic brain injuries
Broken bones
Fractures
Soft tissue injuries
Chest injuries
Leg injuries
Spinal cord injuries
Neck injuries
Lacerations and puncture wounds
Organ damage
Road rash
This list is far from complete. If you have sustained an injury in a Jacksonville golf cart accident, it's critical you understand your legal rights so that you can be made whole again as best as possible. Just contact us today to schedule your free consultation for more information.
What if I'm Partially To Blame for My Golf Cart Accident in Jacksonville?
In Jacksonville, Florida, you can still receive compensation even if you share some blame for your golf cart accident. The state has a "modified comparative negligence" law in place with a 51% rule that speaks to this issue.
With a modified comparative negligence standard, you will be assigned a percentage representing your portion of the blame. Your financial award may be adjusted to reflect this percentage, however.
For example, we'll assume you are assigned 20% of the blame for your accident and awarded $100,000. Under pure comparative negligence, this award may be reduced by 20% to $80,000. And if you are assigned 51% or more of the blame, you will be barred from recovering damages per Florida law.
How Much Time Do I Have To File a Claim After a Golf Cart Accident in Florida?
Florida's statute of limitations for most personal injury claims was recently changed. There is a four-year deadline for accidents that took place on or before 3/23/2023, and a two-year deadline for those that occur after that date.
In some cases, an exception to this deadline might apply. For that reason, it is best to contact a Jacksonville personal injury attorney to determine how much time you have to file a claim based on your situation.
Schedule a Free Case Review With an Experienced Jacksonville Golf Cart Accident Attorney
The aftermath of a golf cart accident in Jacksonville, FL, can leave you and your family with several serious consequences. Near the top of your list of concerns may be how you'll recover compensation from the person or entity who caused the crash.
Hiring Baggett Law Personal Injury Lawyers means you won't have to worry about the legal side of things. Our Jacksonville golf cart accident attorneys can zealously represent your interests and work hard for a settlement or monetary award that is favorable to you.
To get started, reach out online or give us a call today at (904) 396-1100.
What Our Clients Are Saying About Us
https://g.co/kgs/iU4ftz
Read more of our client reviews here.
Local Golf Cart Repair Shops
Jacksonville Golf Cart Repair – 950 S 10th St Bldg B7, Jacksonville Beach, FL 32250
Golf Cart Repair in Jacksonville – 6091 Green Pond Dr, Jacksonville, FL 32258
Jax's Mobile Golf Cart Repair and Accessories – 6091 Green Pond Dr. Jacksonville, FL 32258
*Disclaimer – We do not endorse these companies or profit from having them listed on our website.
Jacksonville Golf Cart Resources
Recent Golf Cart Blog Posts
Golf Cart Accident Infographic